!– Twitter Card data –> <!– Open Graph data –> <!– Schema.org markup for Google+ –> <!— Segment —>
Pinsa Pizza
# NEW! Pinsa Pizza
What is Pinsa Pizza?
Old Roman Style Crust
Crust made with a blend of Soft wheat, soy and rice flours leavened with a sourdough starter and cold fermented.
This unique blend of flours and cold fermentation creates a flavorful crust that is crisp on the outside and light airy and bubbly on the inside.
Pinsa cloud like crust is lighter and airer than a traditional pizza crust.
Pinsa dough requires a longer rising time (48 hours) due to the higher protein content in the flours used. This makes for a crust that is easier to digest since the yeast has finished doing its work before it goes in the oven.

Carmelina Pizza Sauce
Made with the simple, sweet goodness of Carmelina San Marzano Italian tomatoes that are blended with olive oil, garlic ,and salt.
Ingredients 100% Italian tomatoes, olive oil, garlic, salt.
The cleaner ingredient deck allows for the crust to take centerstage and be the star of the pizza.

Foremost Shredded Low Moisture Whole Milk Mozzarella
Made in Wisconsin by a certified Wisconsin Master cheese maker.
Foremost Farms premium mozzarella is pure mozzarella made with 100% milk without any extenders, flavor enhancers or starches.
It is made using old world artisanal cheese methods making it truly authentic mozzarella.
It is aged and tested for color, feel, and taste the old-fashioned way.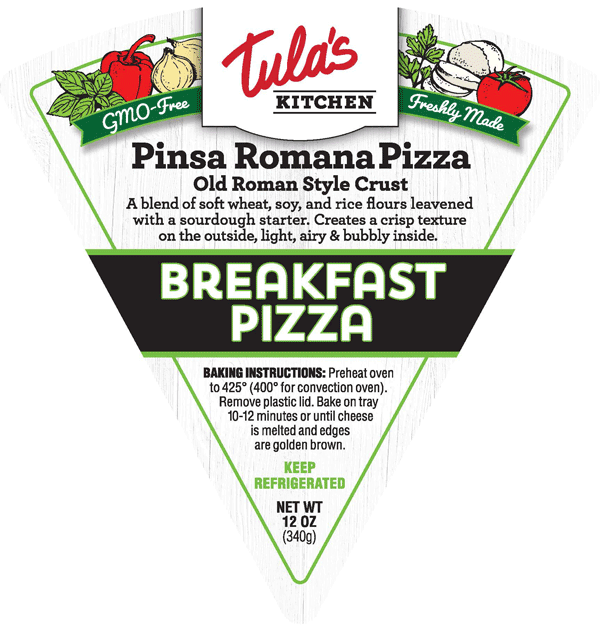 Pinsa Pizza Options
Cheese
Sausage
Sausage & Pepperoni
Sausage, Pepperoni, & Mushroom
Pepperoni
BBQ Chicken
Breakfast Pizza
Chicken Alfredo
Pesto Caprese
Margherita
Veggie Deluxe
---